Disorder in Order – The Art of Vera Molnar
Guided tour with the art collector couple, András Szöllősi-Nagy and Judith Nemes.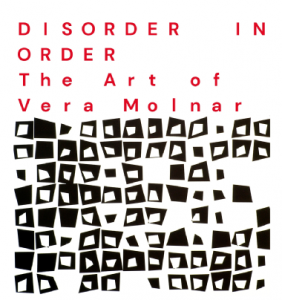 Date: 1st of March in 2020, 4:30-6:00 PM
Address: Kiscell Museum, 1037 Budapest, Kiscelli street 108.
Fee for the tour: 1600 HUF (adult) / 800 HUF (retired or student)
Not only is the Hungarian born Vera Molnar (96), living in Paris now for more than seventy years, a pivotal figure of contemporary art but somewhat ironically is a significant precursor to it. Her imagination has been captured by the relationship of the 'machine imaginaire,' a computer like non-existing virtual machine she developed well before computers became order of the day.  This machine is an algorithm, a theoretical construct, supporting the process of artistic creation. Molnar developed the approach as early as the late 50s. Soon after she had access to real main frame computers and learned quickly how to code. She continued experimenting with computer-generated art, which earned her international recognition and the title of pioneer in computer art. It would, however, be no small feat to pigeonhole her work. Strictly speaking her oeuvre, too elusive to meet rigid criteria, could neither be labeled concrete nor geometric art. It is not concrete for it runs moderately but steadily counter to the rules of concrete art; nor is she an exponent of pure geometric abstraction, as instead of shapes, she mainly works with lines. Those then become, at her will, simple geometric shapes.
What makes Vera Molnar's oeuvre an outstanding artistic achievement is that she is able to use computers in a humanistic rather than an impersonal, mechanic, or cold way. Her works bear all the marks of the artist's imagination, creativity, and unquenchable passion for experimenting. The computer then neither disposes of nor eliminates the role of the artist – critical artistic processes are performed by the human operator, the artist. It is but a tool overcoming the limits of finite combinations and randomization that facilitates artistic work. The artist is the one who makes the decisions, and Vera Molnar excels at that.
Curated by: Júlia Cserba, Enikő Róka
The Kiscell Museum – Municipal Gallery and the Szöllősi-Nagy – Nemes Collection joint exhibition
Further information: http://fovarosikeptar.hu/en/exhibitions-2019-church-hall/disorder-in-order-the-art-of-vera-molnar/